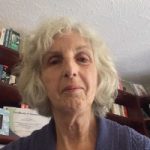 Jill Jones
Jill Jones is the Chair of the Deaf Ex-Mainstreamers Group (DEX) and was the co-founder of DEX in 1994. Jill is passionate about deaf education and the vital need for its change. She has been DEX Company Secretary and also worked as a Project Manager for DEX. Jill has two children, two step-children and eight grandchildren, two of whom are deaf, is married to David, also deaf. She loves youth work, art, yoga, football, bird watching, politics and Deaf politics and being with her family.
134 Posts
Steve Gibson
Steve is Deaf, married to Trishy and has four hearing children. He used to be a programmer with British Gas before becoming involved in Further and Higher Education for 25 years. He is now a Workers' Educational Assocation tutor and covers eleven Deaf Literacy and Numeracy classes in South Yorkshire. He sees bilingualism as a vital gateway for Deaf people to participate in the wider society. Steve is passionate on rugby and can be seen to support Doncaster Knights on home matches.
18 Posts
Join Us
The BSL welcome to the DEX website
Deaf Ex-Mainstreamers' Group (DEXperience)
We are an entirely deaf-led organisation that exists to raise awareness of the daily struggle that deaf children have in mainstream education.
Every deaf child's wellbeing matters to us and to you!
DEX uses the English dictionary definition of the word "deaf" to mean "wholly or partially without hearing" to apply to all children who have hearing loss.
DEXperience welcomes everybody, whatever education experience you have. We have adopted 'DEXperience' to show that we are inclusive of all.
We are a deaf-led organisation that was set up to support deaf people who are being educated in mainstream education, or who attended mainstream schools. Deaf people who attended Deaf schools want to support this campaign too.
LOCAL OFFER
Disabilities Action
National Emergencies Trust
YOUNG LIVES FOUNDATION
THANK YOU TO
Small Charities Coalition Member
Read The Parents Checklist
Support Us
Categories
ABOUT DEX
COMMENT, COMPLIMENTS AND COMPLAINTS