Every deaf child's wellbeing matters to us and to you!
DEX uses the English dictionary definition of the word "deaf" to mean "wholly or partially without hearing" to apply to all children who have hearing loss.
DEXperience welcomes everybody, whatever education experience you have. We have adopted 'DEXperience' to show that we are inclusive of all.
We are a deaf-led organisation that was set up to support deaf people who are being educated in mainstream education, or who attended mainstream schools. Deaf people who attended Deaf schools want to support this campaign too.
Here's the BSL welcome to the DEX website!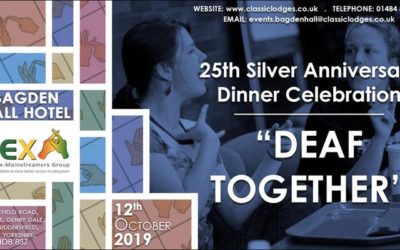 This is our FIRST POST ABOUT DEX's 25th ANNIVERSARY MEAL AND WEEKEND IN OCTOBER 2019! It'll be in the beautiful surroundings of the Last of the Summer Wine countryside in West Yorkshire. If you are interested in staying in the hotel please do book now to...
read more